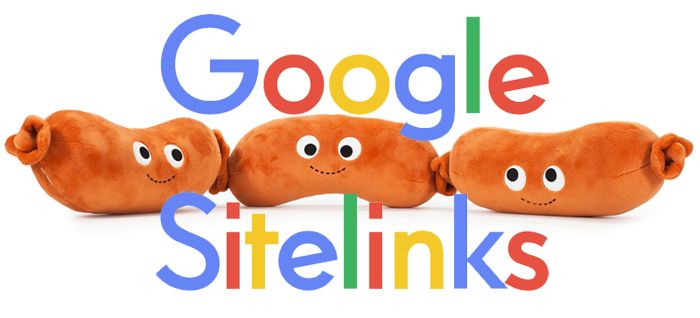 When your site is the #1 search result you have a chance at having Google sitelinks appear below your listing.
This is what they look like: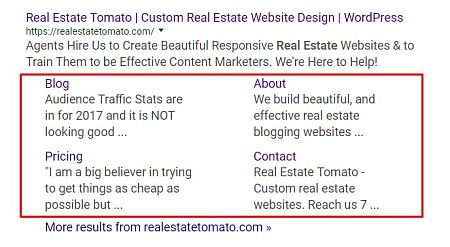 Sitelinks are shortcuts or a table of contents meant to help users navigate your site quickly as opposed to having to load the homepage first.
Google analyzes the structure of your website to find the most popular and useful content, and presents them as the shortcuts that appear below your search result.
What Benefit Are Google Sitelinks?
1. It improves your "Click Thru Rate"
– Your most popular pages are typically the ones that are shown in the sitelinks. Offering these popular links right away ensures your audience is clicking through to the content you want them to experience.
2. Sitelinks establish credibility
– The amount of space that your site with sitelinks below takes up in the search results is impressive. It shows a sort of endorsement from Google. You won;t be overlooked.
3. Increased the awareness of your services and offerings.
– Having your best pages appear in the sitelinks instantly reveals what you have to offer to your audience. Your brand, your reputation, your content… all of it is suddenly more visible than other results on the page.
4. Effective Pages get more visibility
– Instead of hoping that your homepage successfully directs your audience to the most effective pages on your site, sitelinks presents them right in the search results.
5. Having Sitelinks is a clear indicator of a website with healthy SEO
– This does not mean however that if you don't have sitelinks that your site is poorly SEO'd.
How Do I Get Google Sitelinks?
There are no guidelines from Google as to how to get sitelinks.
What we do know is that sitelinks are associated with sites that use what Google would consider "best practices."
Here are a several things we recommend to give yourself the best chance at getting sitelinks:
(Note – many of you will need to work with your website support to address these)
Submit your site to Google Search Console (AKA Google Webmasters)
Sign up for Google Analytics and add their tracking code to your website (you might need your website support you help you here).
Make sure you have a unique and descriptive Site Title. This is ours: Real Estate Tomato | Custom Real Estate Website Design | WordPress
Make sure you have a unique and descriptive Meta Description.
Your main navigation menu needs to be clearly organized. This means ONLY the most important pages are the main menu items and their related pages are in dropdowns below. It is also a good idea to use Parent Page >> Child Page structure where you have deep content.
For example:
If you have a Community page that showcases all your featured Communities is might have the URL like this: awesomerealestate.com/communities/.
Now a "Child" of that page would have a URL that looked like this: awesomerealestate.com/communities/alexandria/
That is a proper hierarchy organization of your pages.
Add and submit a sitemap.xml to your Google Search Console. If you are using WordPress you just need the Google XML Sitemap Plugin.
Cross link to and from your websites most important pages. Continuing with the community page example, you should make sure that each page has links to the other important community pages, as well as to search pages, contact pages, and other site defining pages.
Similar to the homepage Title above, make sure your pages all have SEO friendly titles that relate to the content within. This is important because it's what appears in the sitelink.
Similar to the homepage Description above, make sure your pages all have SEO friendly descriptions. This is important because it's what appears in the sitelink.
Reasons Google might NOT show sitelinks for your site:
Your site is poorly optimized (For ex: Pages have the same or similar title and meta description. Or you have thin content on pages)
Your site doesn't allow for the algorithm to find pages "good enough" for site links
Sitelinks wouldn't be relevant to a particular search query (not all searches produce results of site with sitelinks)
You are missing a sitemap
You have not submitted your site to the Search Console
Can I Change My Google Sitelinks?
There are no settings to control your sitelinks. Google's algorithm selects which links it determines "when we think they'll be useful to the user."
Can I Demote a Google Sitelink?
Sadly Google stopped allowing this option in Oct of 2016.
Some important notes:
Current maximum number of sitelinks is 6.
Current maximum number of characters in the sitelink title is 31
Current maximum number of characters in the sitelink descriptions is 65
If you found the above tips helpful, you should really subscribe to future updates.
Or if you are a little embarrassed by your current website, drop us a line and we will make you look amazing with a website makeover!