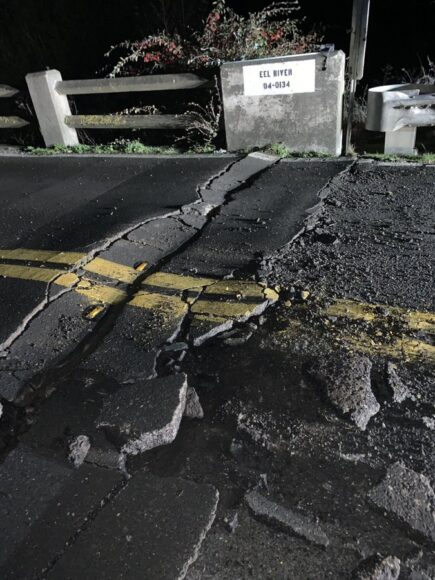 State Compensation Insurance Fund says it will offer a 30-day credit extension to policyholders in Humboldt County, California, which was declared a state of emergency by Gov. Gavin Newsom after a large earthquake on December 20 near Ferndale.
Thousands of customers are still without power following a magnitude 6.4 earthquake that struck northern California on Tuesday, according to the U.S. Geological Survey.
Very strong shaking was reported from the quake, which struck roughly 200 miles north of San Francisco in the vicinity of the Mendocino triple junction where the Pacific, North America and Juan de Fuca plates meet, according to the USGS.
The quake initially left more than 75,000 customers without power, two deaths were reported, and there were reports of some damage to buildings and infrastructure. Several aftershocks followed the initial quake, according to the USGS.
As of Thursday morning, nearly 10,000 customers were still without power. The town of Rio Dell could be without water for days in the aftermath, SF Gate reported.
Several organizations took to social media to report damage. The California Geological Survey sent a team to survey the area.
Our field teams were out documenting structural & ground damage yesterday to help us understand the shaking effects from yesterday's M6.4 Ferndale earthquake.
Most vulnerable to any strong shaking are "unreinforced masonry" buildings like the old Humboldt Creamery in Loleta. 1/7 pic.twitter.com/ZCInnRJv6k

— California Geological Survey (@CAGeoSurvey) December 21, 2022
Local news station KTLA reported on that the early warning system for the Western U.S. provided a warning to people as intended in a Tweet that also showed local damage.
More than 3 million people got a ten-second warning to duck and take cover before the ground started shaking from a 6.4 magnitude quake https://t.co/oAO4JMohWR.

— KTLA (@KTLA) December 22, 2022
State Fund policyholders can request the extension by calling State Fund's Customer Service Center at (888) 782-8338 or through their insurance broker.
State Fund is a not-for-profit that serves as California's provider of workers' comp insurance.
Related:
Topics
California
Policyholder
Was this article valuable?
Here are more articles you may enjoy.
Interested in Policyholder?
Get automatic alerts for this topic.