Commercial Real Estate Seattle | Ultimate Investor's Guide
 May 03, 2019
The market for commercial real estate in Seattle is vibrant. As the home of corporate giants Starbucks, Amazon and Microsoft, Seattle draws an influx of Fortune 500 companies. Downtown Class-A office space is highly sought, and the relatively affluent population requires luxury apartments. The industrial sector of the Seattle commercial real estate market continues to benefit from e-commerce. In this article, we'll survey the current market for commercial real estate in Seattle and describe its hottest neighborhoods. Also, we'll review King County's property taxes, identify a few CRE appraisers, answer FAQs and discuss CRE financing options.
Video: Afternoon Above Seattle – 4K Aerial Drone View
Current Seattle Commercial Real Estate Market
We've broken down the current market for commercial real estate in Seattle into several of its most important sectors.
Seattle Commercial Real Estate: Office
According to Newmark Knight Frank, the demand for office space in the Puget Sound region continues to drive rents higher. Moreover, the region's 2019 Q1 reported rental rate ($33.16/SQFT), vacancy rate (6.5%), and net absorption (+16,015) are excellent. Similarly, for the 26th consecutive quarter, the region's net absorption was positive. Developers are constructing 8.3 million square feet as of 2019 Q1, which is a near-record for office space in the region.
Furthermore, the first quarter of 2019 saw Seattle's average asking annual, office rents at $40.83/SQFT. That's up 0.6% over 2018 Q4, with the vacancy rate dipping to 5.9% and net absorption at +160,566 square feet. New office construction includes a 35-story building at Third & Lenora in the Belltown district, near Pike Place Market. The mixed-used building includes luxury apartments. Additionally, another new office building at 15th & Market in historic Ballard is ultramodern and near shopping, services and restaurants.
Apply For Financing
Seattle Commercial Real Estate: Industrial
Notably, Bisnow reports that Industrial was a strong sector in 2019 Q1 within the Seattle commercial real estate market. The average rental rate is $14.01/SQFT and the vacancy rate stands at an exceptionally low 3.3%. In contrast, only the net absorption figure was negative, at -344,284 square feet. Industrial land prices are near or above $80/SQFT in Seattle. On January 1, Pac-Van Inc. leased 8.77 acres of industrial property for five years in nearby Tacoma. Other notable lease transactions involved Wilmar Corporation, Pacific Plumbing Supply Company and Stryder Motorfreight.
Seattle Commercial Real Estate: Retail
For 2019 Q1, Seattle's retail asking rental rate was $18.49/SQFT. The vacancy rate was a scant 2.1%, and net absorption rose by +31,455 square feet. One reason for the strong retail sector within the Seattle commercial real estate market is the strength of Amazon. The behemoth company currently occupies, or will soon occupy, 10 million square feet in downtown office space. That creates strong demand for retail property to meet the shopping demand of workers and residents.
Seattle Commercial Real Estate: Multifamily
Seattle seems to have finally caught up with multifamily demand. The Seattle Times reports that rents are holding flat in 2019 after gaining 4.7% in 2018. New luxury apartments recently flooded the market and boosted 2018 rents. The largest rent increases appear in low-cost areas that experienced the least apartment construction. However, 2018 Q4 multifamily rents dipped by 1.4%, according to the AP, and the vacancy rate is 10%.
The priciest Seattle area, Eastside, saw rents dip 2.5 percent for the quarter. The average rent for all Seattle units is $1,940/month. Apartment tenants who have remained in their units saw a minimal rent increase of 0.5% from a year ago. That rate is even less when you factor in inflation. Rent growth is among the slowest in the nation. Landlords are making concessions, including a month or two of free rent, four-figure gift cards, free parking and more. Seattle ranks fourth in the rate landlords are dropping rents. Experts predict that pressure on rents will continue throughout 2019, as the construction of apartments surges without a pause.
Seattle Neighborhood Guide
Bisnow quotes JPMorgan Chase senior manager Nicholas Bley:
"Any area that's between a 30-minute and one-hour commute into Downtown Seattle is driving interest, and especially around areas where light rail will be going in."
Video: Future Seattle 2020 – Tallest Building Projects and Proposals in Seattle
Seattle multifamily rents are highest in the best neighborhoods. Typically, they score well for walkability and transit (both measures are on a 0-to-100 scale). The top dozen, as ranked by SeattleMet, are:
Seattle Multifamily Rents
| Rank | Neighborhood | Avg Rent | Walk | Transit | Comments |
| --- | --- | --- | --- | --- | --- |
| 1 | West Seattle | $1,832 | 68 | 40 | Expansive waterfront, family friendly, parks and beaches |
| 2 | Beacon Hill | $1,634 | 63 | 56 | Light rail station, breathtaking views, active food scene |
| 3 | Ravenna | $1,598 | 77 | 58 | Quaint, near University of Washington, Ravenna Park |
| 4 | Columbia City | $2,272 | 84 | 61 | Public transit, thriving businesses, entertainment venues |
| 5 | Ballard | $2,174 | 87 | 53 | Exciting neighborhood, young residents, Nordic Museum |
| 6 | Interbay | $1,525 | 49 | 49 | New 226-unit complex, new stores and restaurants, Expedia campus |
| 7 | South Park | $2,310 | 59 | 40 | Civic engagement, ethnic diversity, new restaurants and salons |
| 8 | Central District | $1,948 | 88 | 72 | Gentrification, African-American heritage, emerging food scene |
| 9 | Georgetown | $1,800 | 69 | 48 | Art and food scene, not overdeveloped, destination for local beer fans |
| 10 | Lake City | $1,379 | 67 | 56 | New light rail in 2021, lakeside access, proximity to Northgate Mall |
| 11 | Greenwood | $1,820 | 85 | 54 | Affordable area, urban mix, Taproot Theater, new multi-unit complexes |
| 12 | Capitol Hill | $2,070 | 91 | 80 | Vibrant nightlife, high livability scores, Cal Anderson Park, famous cocktail bar |
Seattle Commercial Real Estate Listings
You can get a good feel for the pulse of the city by checking Seattle commercial real estate listings. While there are many providers of Seattle commercial real estate listings, two of the best are LoopNet and CityFeet. Moreover, they provide comprehensive information, like annual rent per square foot, cap rates and more.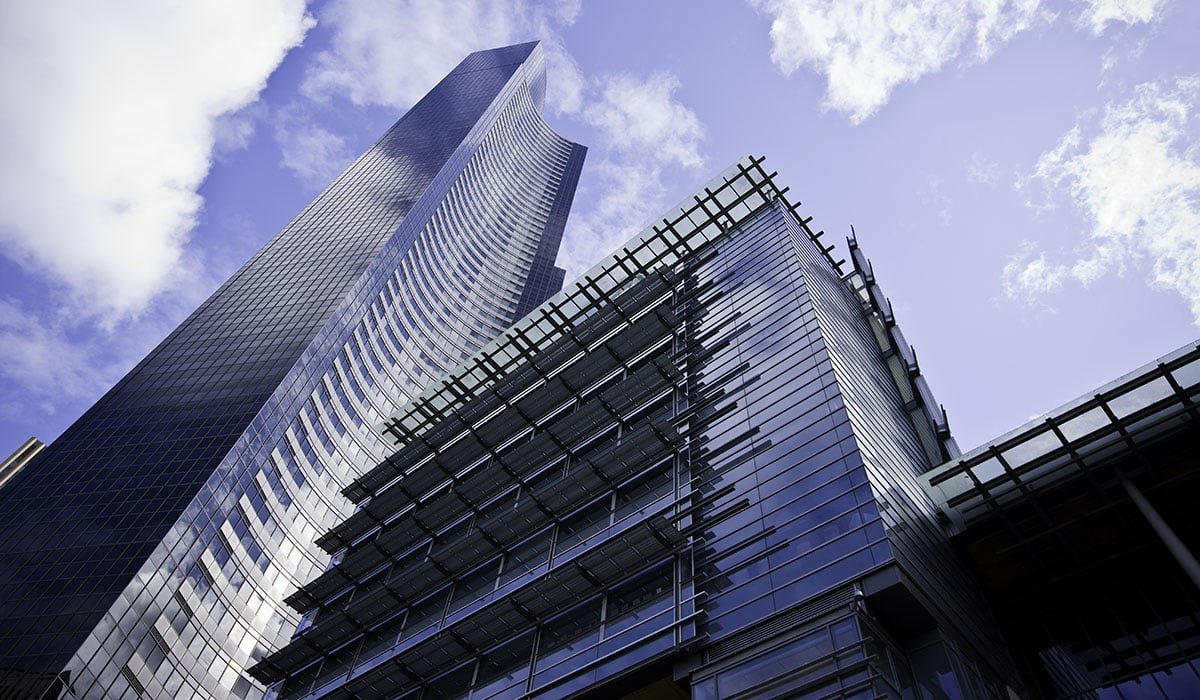 Commercial Property Taxes
The City of Seattle doesn't assess property taxes for commercial real estate in Seattle. Rather, surrounding King County is responsible for setting and collecting property taxes. For 2019, property taxes went down in about half of King County's cities and unincorporated areas. The other half received a small increase. Property taxes in King County depend on the following factors:
Location
Property's assessed value
Number of jurisdictions levying taxes
The last item, number of jurisdictions, can include the state, city, county, school district, port, fire district and more. The average effective property tax rate in King County is 1.025%. That worked out to an average, annual tax of $2,562.
The following chart is provided by the King County Assessor: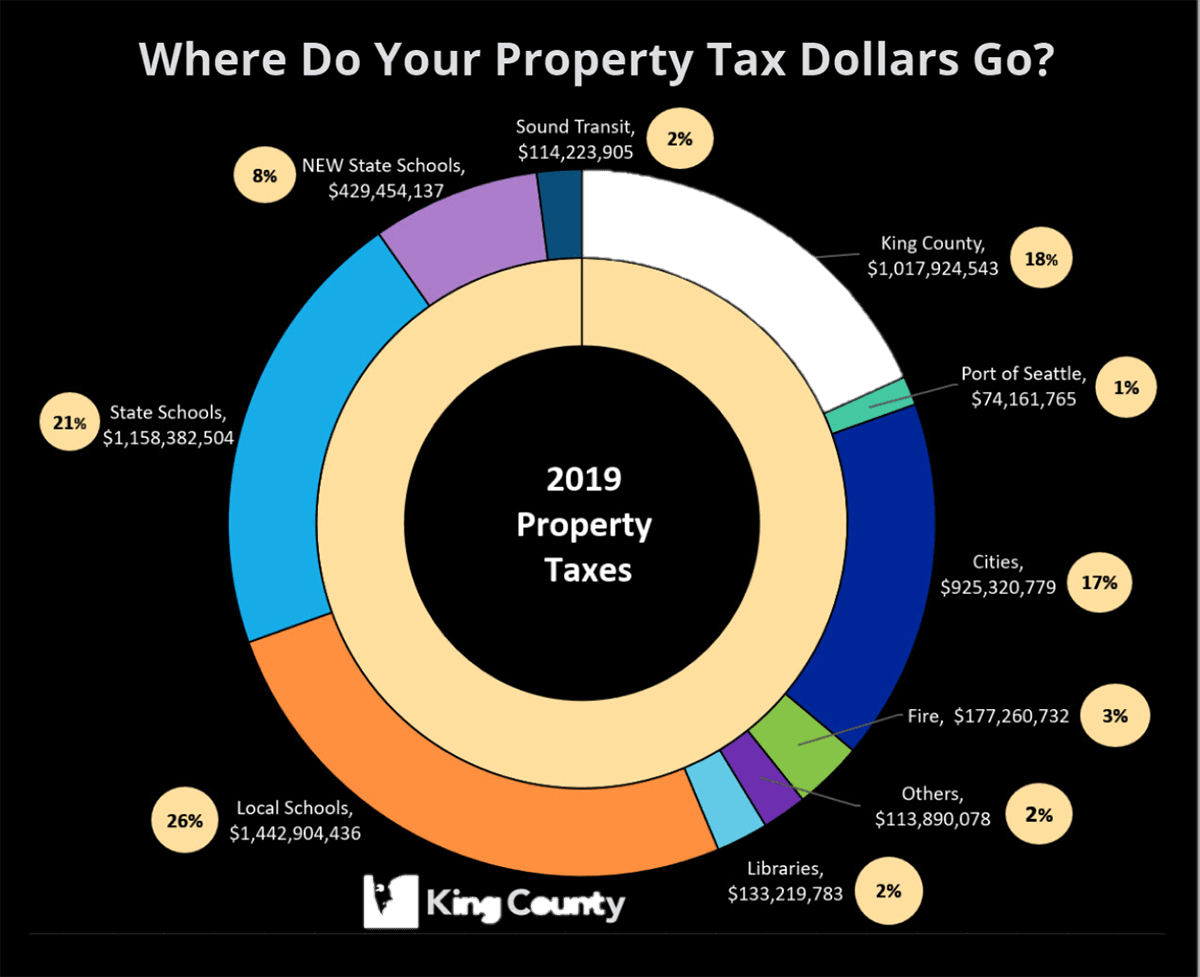 Recommended CRE Appraisers
There are dozens of appraisers for commercial real estate in Seattle. According to Thumbtack, the top three CRE appraisers in Seattle are:
Percival & Associates, LLC, in business since 2007
Olympic Appraisals, in business since 2010
Global Valuation Services, in business since 2005
Another way to identify a CRE appraiser is to contact the Seattle Chapter of the Appraisal Institute.
For more information on the subject, see our article Commercial Real Estate Appraisal – Everything You Need to Know.
New CRE Construction
The last several years witnessed a tremendous development burst of commercial real estate in Seattle. Furthermore, it appears that 2019 will continue the trend. Announcements of new development in 2019 for commercial real estate in Seattle include:
Northgate Mall: The mall will repurpose some of its property to include office buildings with retail components.
Northwest Seaport Alliance: Managers of the Alliance approved the construction of a fourth cruise ship terminal.
High-Rise Condo: A new 17-story condo will go up in the International District, over the downtown transit tunnel.
Living Stone Office Building Project: The unusual five-story building will collect rainwater via a large cistern. It will also cultivate honey-making bees on the site for building tenants.
Ovation Apartment Project: Two 32-story towers will undergo construction in the First Hill district, consisting of nearly 550 units.
For more information about commercial construction, see our article entitled 5 Signs of Well-Run Commercial Construction Projects.
Frequently Asked Questions: Commercial Real Estate Seattle
Where can I buy commercial real estate in Seattle?
There are widespread opportunities to purchase Seattle commercial real estate.  While the central business district is a favored location, most Seattle areas offer many properties available for purchase.  Check out LoopNet and CityFeet for current listings.  And as a licensed commercial real estate brokerage firm, call Assets America® for additional properties for sale at 206-622-3000!
What's the average appreciation for commercial real estate in Seattle?
In 2018, CRE overall pricing rose 6.5% from a year earlier.  However, many experts believe that Seattle is due for a period of consolidation as tenants absorb new space.  Specifically, prices will continue to appreciate, but probably at a decreasing rate through the end of 2020,
How do I break into commercial real estate in Seattle?
It starts with research.  We have several articles that will help you get started, including Buy a Hotel Franchise | Ultimate Success Guide and Can I Buy an Apartment Building?  In addition, we invite you to contact Assets America®.  We are happy to share our insights into the various Seattle commercial real estate sectors.
Commercial Lending for Seattle CRE
Furthermore, we recommend you read our article How to Work with Commercial Mortgage Brokers. In it, you'll find insights as to why commercial loan brokers might be your best choice for financing CRE projects.
Assets America® Finances Seattle CRE
Did you know, Assets America® actively participates in Seattle CRE financing and the Seattle CRE sales market to boot? Consequently, we offer financing starting at $20 million for construction, acquisition, renovation and refinancing projects. Contact us today at 206-622-3000 for more information about financing commercial real estate in Seattle, Bellevue, King County and the surrounding areas. As a matter of fact, we are a nationwide commercial lending source!
Seattle Real Estate News
Related Articles